W.A.A.C.
What Is Heather's Concept for W.A.A.C.?
W.A.A.C. is an acronym for "We Are All Connected". Although W.A.A.C. was initially created as Heather's entry for ArtPrize in 2014, the piece has continued to have a life of its own. We live in a crazy, busy world, yet we are all still connected, to each other, to nature and the various ecosystems and animals of the world, and to our effects on the world, through time, space and technology. Regardless of our ethnicity, religious belief, sexual orientation, economic status or where we live, we are all part of the same species and share the same basic needs. We need each other. We need the world we live in. We need to come together to ensure that the world remains a beautiful place. W.A.A.C. calls upon viewers to consider and contemplate these thoughts and emotions, and invites viewers to become more connected to the people of the world.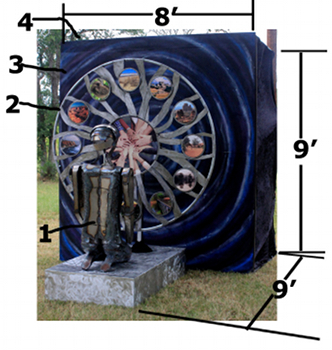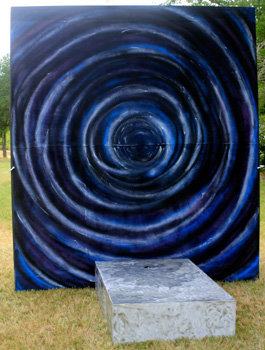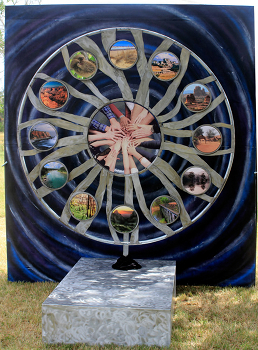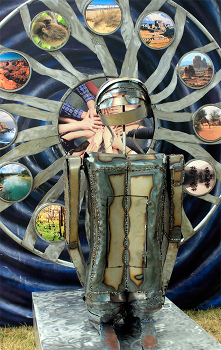 W.A.A.C. consists of:
The large figure that kneels and overlooks the 6 ft diamter circle is a hand-crafted, welded, hollow-steel sculpture that represents a higher power, whatever that means to each viewer.
The 6 ft diameter circle represents the world. There are 12 landscape photos with acrylic paint on canvas that surround and reach toward a central photo of 12 sets of hands. The 12 landscape photos are a compilation of photos I have taken over the last 15 years. The center photo of hands is from a recent photo shoot using a diverse group of Grand Rapids residents. 12 is an appropriate number to use, being symbolic in Judaism, Christianity, and Islam among others, and is symbolic in our perception of time. The landscape photos are arranged systematically:

Landscape photos are placed in positions of an analog clock:

1 - Mayan Ruins in Mexico
2 - Arches National Park, UT
3 - Desert of United Arab Emirates
4 - Broken Bow Lake, OK
5 - Field outside London, UK
6 - Big Bend National Park, TX
7 - Elephant Butte Park, NM
8 - Glacier National Park, MT
9 - CA coast near Los Angeles
10 - Grand Canyon, AZ
11 - Rainforest of Costa Rica
12 - Lake Michigan (Oval Beach)

Positions 12, 3, 6, 9 contain photos from Northern, Eastern, Southern and Western locations.
Various triads are also formed within the 12 landscape photos containing various attributes of our world:

Positions 4, 8 and 12 - freshwater systems of the world
Positions 3, 7, and 11 - animals
Positions 2, 6, 10 - natural Earth formations
Positions 1, 5, 9 - human impacts on nature (man-made structures)

The backdrop is an acrylic painted canvas emulating a time exposure of the stars.
The extension of the photo booth on the back of the backdrop provokes viewers to become part of the piece. A viewer will be able to take a photo, which will automatically print, write what being connected means to him/her (optional), and then place the photo inside the sculpture or on top of the base (the viewer chooses the placement). In addition, the viewer will have the choice to email the photo to herself/himself and to invite others to participate via social media. This interactive portion will occur during some of my art shows. The photos will live with the piece afterward.
How Can I Be Involved In W.A.A.C.?
Part of W.A.A.C. consists of a photo booth in which people can connect and become part of her piece. Visit Heather at one of her upcoming shows and take a picture in the photo booth.