NuestroCamino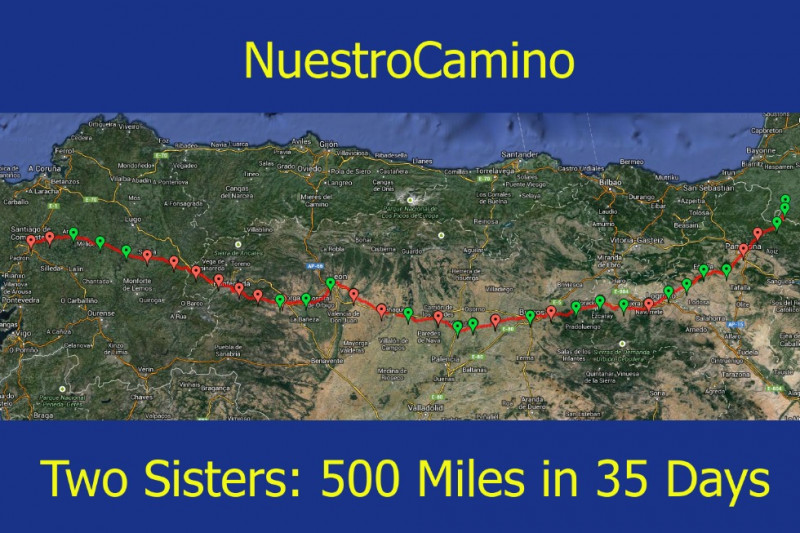 In the summer of 2014, the Harris sisters joined the thousands of pilgrims that walk El Camino de Santiago every year across the north of Spain and walked the 500 miles in 35 days. NuestroCamino is a collaboration between Heather & Kristy of that pilgrimage and story.
NuestroCamino involves creating 70 pieces of art, a pair for each day that they walked. The pieces will flow from right to left representing their travel from East to West. Heather will continue her signature style in this installation where the first piece in each pair will be from a photograph that one of the sisters took that day and the second piece will be an interpretation of the photograph. One piece within the pair will be hung over the other and the width of the pair is the scaled distance we walked each day. The height of both pieces together is the scaled highest elevation achieved that day. In the end, the pieces will appear as a giant graph. Between each day's pieces, there will be a digital frame rotating through their photos of the day and that day's story. After all of the pieces, there will be video stories with their fellow pilgrims.
You can follow the creation of NuestroCamino in the NuestroCamino Facebook album or in the NuestroCamino Gallery.
If you're a fellow pilgrim and you'd like to share your Camino story that will be shown after all of the art pieces, e-mail a short video (maximum of 3 minutes) to nuestrocamino@HeatherHarrisArt.com. Please include your name, where you are from, when you walked the Camino and which route you walked in the video. You can tell us anything about your Camino experience. Here are some ideas:
What inspired you to walk the Camino?
What did you learn while walking the Camino?
Did you learn anything once you returned home from the Camino?
What's your favorite memory of the Camino?
What was the most challenging part about the Camino?
Would you walk the Camino again?
Would you recommend the Camino to others?
When you e-mail your video to nuestrocamino@HeatherHarrisArt.com, please also include a
completed and signed video release form (PDF). (The completed and signed form can be a scan or a photo.) We will be compiling all of the videos to tell the story of NuestroCamino.
Because there are many expenses (metal for frames, ink and canvas, television to display to the video stories) for NuestroCamino, there is a NuestroCamino GoFundMe. If you'd like to make a contribution to the fundraiser, any amount is appreciated!
The Harris sisters are currently in the process of securing a venue where NuestroCamino can be installed once it is finished. Stay tuned for more information!