Mixed Media - Etched Metal (Limited Editions)
Each of these mixed-media pieces is a combination of: pigmented ink on Brilliance WR Canvas, acrylic coating and a hand-crafted etched metal, permanent frame, extending the work inside. Each piece is in an edition of 5, and will no longer be available when the edition is closed. For any sold or unavailable artwork, contact Heather to commission a unique but similar piece.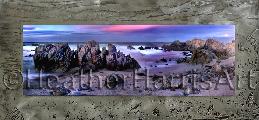 Sunset in Monterey
Mixed Media
7" x 15"
$235.00 USD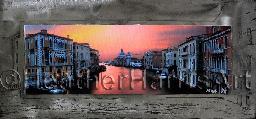 When I had Venice All to Mys
[...more]
Mixed Media
7" x 15"
Sold